Arrow Max Compressor & Pumps provides air compressor sales, system design & installation services in the San Francisco Bay Area. 
We can help you select and purchase the best air compressor for your needs and budget, then get it installed and ready to go at your place of business.
We also provide regular air compressor maintenance to keep your warranty valid. If your equipment ever happens to breakdown, we also provide air compressor repair services, including temporary compressor rental to minimize downtime.
We service a variety of air compressors, including:
Centrifugal compressors
High pressure compressors
Oil free air compressors
Oil lubricated air compressors
PET compressors
Reciprocating compressors
Rotary screw compressors
FSCurtis Smart & Sophisticated Nx Series 45-90kw Air Compressor
The  FSCurtis Nx Series offers a space-saving profile that's easy to install while accommodating limited floor space. The integrated separator, MPV and thermostatic valve reduce connections by up to 90% — meaning fewer opportunities for leaks. The FSCurtis Nx series also comes in variable speed drive for 8-90kW for even more efficiency and energy savings opportunities.
FSCurtis Smart & Sophisticated Nx Series 4-15kw Air Compressor
Compact in design, robust in power, the FSCurtis NX's smooth, quiet operation is ideal for a wide variety of air compressor applications ranging from auto body shops to light industrial.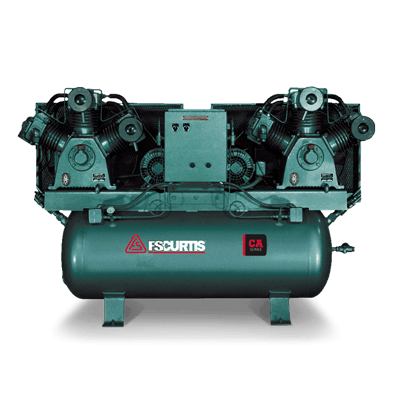 FSCurtis CA Series Ultra Pack Air Compressor
FSCUrtis CA Series compressors are already an outstanding value, and an FS-Curtis Ultra Pack gives you even more. An Ultra Pack includes a CA Series air compressor fully packaged with the most common options and accessories. You'll save money and time by getting it all in one package, and you'll be assured of increasing air quality while reducing maintenance needs. Industry-leading five-year bumper-to-bumper warranty available – talk with your Arrowmax representative for details.
FSCurtis CT Series Standard Package
These reciprocating compressors combine our signature performance and reliability with a simple industrial design, making them the most rugged and affordable air compressors in their category. 100% Cast-iron cylinders, cylinder heads connecting rods, and high pressure pistons – More cast-iron for longer service life. Quality Components – Built to last for superior compressor life. Value-Minded Industrial Design – Robust Performance At A Lower Cost. 
FSCurtis ZW Series Oil Free Screw Compressor
Variable Speed Driven ZW compressors from FSCurtis offer an additional 30-35% energy savings and long life cycle to customers with variable air demand.
Naturally "Green" by design, each provides high quality air, low dB(A) noise levels, efficient use of energy, and no oil discharge to the environment. Even service costs are very low with no oil filters, oil separators or oil to dispose.
ZW's 4-Stage Water Purification System with reverse osmosis membrane & water pump is furnished standard to remove all contaminants to provide clean, flat water to prevent contamination buildup on the internal components. Total water filtration, cleaning and automatic flushing ensure high air quality and long component life cycles.
Our advanced alphanumeric display Controller manages the system and monitors temperatures and pressures to protect your investment and ensure you extract the maximum performance and energy efficiency from every kilowatt you use. When your application requires clean, high quality air count on the ZW Series for truly oil-less air.
ZW Compressors are environmentally safe with high efficiency and are an extension of our current offering of Oil Less piston compressors. FS-Curtis oil free compressors serve the majority of your compressed air needs.
Atlas Copco GA 15-26: Oil-Injected Rotary Screw Compressors
Atlas Copco's oil-injected rotary screw compressors are leader in the market thanks to outstanding performance and flexible operation. This results in the highest productivity while minimizing the total cost of ownership. GA air compressors are built to perform even in the harshest environments; these products will keep your production running smoothly.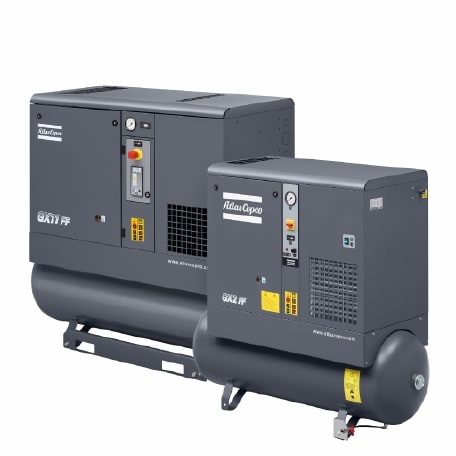 Atlas Copco GX 2-11: Oil-Injected Rotary Screw Compressors
Atlas Copco's oil-injected rotary screw GX compressors are the powerful and reliable industrial screw compressors for small and medium sized industries. The GX air compressors are available in various versions (floor mounted, tank mounted, with or without integrated dryer) to provide flexibility. Built from high-quality components and materials, they provide a reliable source of high-quality air in temperatures up to 46°C/115°F.
Atlas Copco GA 5-11/GA 5-15 VSD: Oil-Injected Rotary Screw Compressors
Atlas Copco's oil-injected rotary screw compressors are leader in the market thanks to outstanding performance and flexible operation. This results in the highest productivity while minimizing the total cost of ownership. GA air compressors are available in two series: GA 5-11 and GA 5-15 VSD.
The GA 5-11 is the best workshop solution, built to perform even in the harshest conditions. The GA 5-15 VSD range is the ideal solution for productions with a fluctuating air demand, optimizing your energy consumption. Both ranges supply the high-quality air you need to keep your air network clean and your production up and running.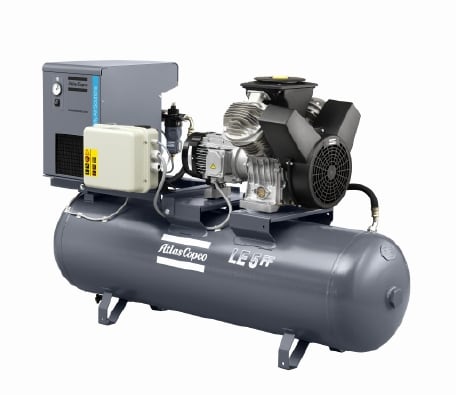 Atlas Copco LE / LT: Industrial Oil-Lubricated Aluminum Piston Compressors
Looking for a durable, high-performance compressed air solution for your specific industrial application? Designed with the highest attention to quality, Atlas Copco's LE/LT oil-lubricated aluminium piston air compressors stand for exceptional reliability and low operating costs. LE is your air  compressor for 10 bar and the LT for 15, 20 or 30 bar applications. Incorporating state-of-the-art technology, LE/LT compressors deliver the lowest operating temperatures in the industry, while offering quality air with very low oil carryover. Proven design and high-quality materials ensure performance and extra long life. The LE/LT range is suitable for stand-alone use or easy integration in your OEM product.
Atlas Copco SF and SF+ Series 1-22: Oil-Free Scroll Compressors
Atlas Copco's SF oil-free scroll air compressors provide 100% oil-free air for critical applications in industries such as R&D laboratories, hospitals, universities, dental applications, food & beverage. These ISO 8573-1 CLASS 0 certified compressors are easy to operate and maintain, and have a minimal footprint to save space in your facility. Atlas Copco SF compressors eliminate the risks of oil contamination while providing an efficient, reliable and cost-effective source of pure oil-free air.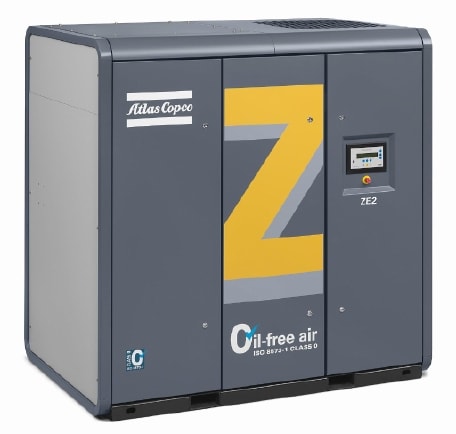 Atlas Copco ZE/ZA (VSD): Oil-Free Rotary Screw Compressors
Especially in harsh and dusty environments, a reliable supply of 100% certified oil-free compressed air is critical to ensure production continuity. Atlas Copco's low pressure ZE/ZA air compressors fulfill this demand by offering a constant air flow at minimal energy costs. Integrated Variable Speed Drive (VSD) variants offer up to 35% extra energy savings by automatically tuning compressor flow to the precise air demand.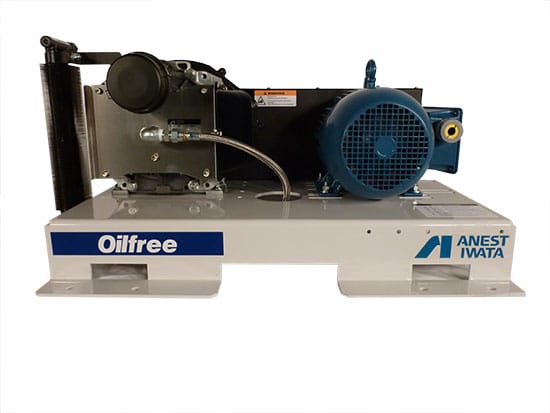 Anest Iwata SLB Base Mount: Oil Less Scroll Tank Mount Compressors
Anest Iwata oiless air compressors offer  ultra quiet operation (51-67 dB). Clean, 100% oil free air; No oil maintenance required, no oil drain. Built-in intercooling. Hour of operation display. Very few maintenance intervals.
Basemount, open or enclosure type. 3 micron filter. Bekomat Membrane Dryer or Refrigerated Dryer. Auto-drain sensor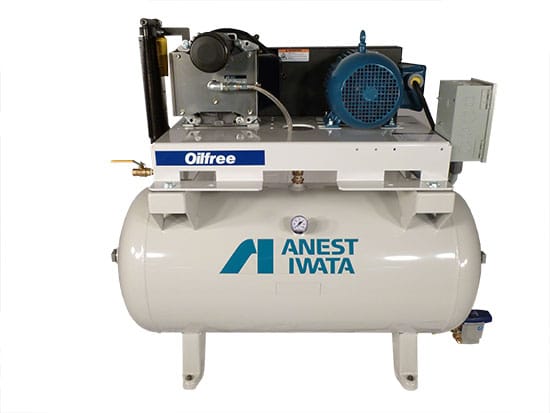 Anest Iwata SLT Open Tank Mount: Oil Less Scroll Tank Mount Compressors
Ultra quiet operation (51-67 dB) with this Anest Iwata oil free air compressor. Clean, 100% oil free air; No oil maintenance required, no oil drain. Built-in intercooling. Hour of operation display. Very few maintenance intervals. Basemount, open or enclosure type. 3 micron filter. Bekomat Membrane Dryer or Refrigerated Dryer.Auto-drain sensor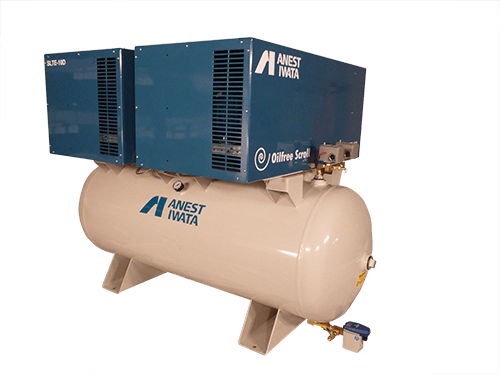 Anest Iwata SLTE Enclosed Tank Mount: Oil Less Scroll Tank Mount Compressors
Ultra quiet operation (51-67 dB). Clean, 100% oil free air; No oil maintenance required on Anest Iwata oil free air compressors. No oil drain. Built-in intercooling. Hour of operation display. Very few maintenance intervals. Basemount, open or enclosure type. 3 micron filter. Bekomat Membrane Dryer or Refrigerated Dryer. Auto-drain sensor (Already included with Refrigerated Dryer)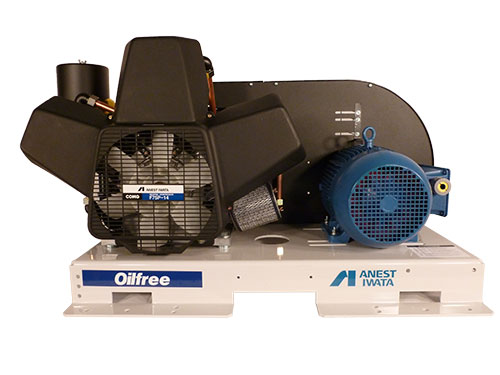 Anest Iwata OFB Oil Less Piston Base Mount: Oil Less Reciprocating Compressors
No oil required for lubrication. This Anest Iwata air compressor supplies clean, 100% oil less air. Extended 2-way efficiency cooling system. Large capacity intake filter. Powerful 2 – stage compression. Filter. Bekomat Membrane Dryer or Refrigerated Dryer. Auto-drain sensor (Already included with Refrigerated Dryer)
Anest Iwata OFT Oil Less Piston Tank Mount: Oil Less Reciprocating Compressors
No oil required for lubrication. Clean, 100% oil less air. Extended 2-way efficiency cooling system on this Anest Iwata air compressor. Large capacity intake filter. Powerful 2 – stage compression. Filter. Bekomat Membrane Dryer or Refrigerated Dryer. Auto-drain sensor (Already included with Refrigerated Dryer)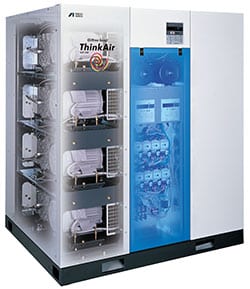 Anest Iwata Oil Less Scroll Enclosure: Oil Less Enclosure Compressors
Ultra quiet operation (51-67 dB) oil free air compresor. Anest Iwata energy saving control unit for multiple air-ends. Clean, 100% oil free air; No oil maintenance required. Built-in intercooling & runtime monitor sensory. Digital program display panel. Very few maintenance intervals. Small, sleek & compact. Options : Filter. Bekomat . Membrane Dryer or Refrigerated Dryer (Will be separate from unit). Auto-drain sensor (Already included with Refrigerated Dryer)

Call 510.828.7555 to schedule repair, maintenance or sales support